Compressed Natural Gas (CNG)
CNG is an environment friendly fuel and the emission of CO/COx, NOx & Particulate matter is less with its usage. The use of natural gas in the transport sector has contributed to a great extent in containing the pollution due to vehicular exhaust emissions. There is no pilferage of CNG as the gas is stored at high pressure and adulteration is also not possible. Being an economical fuel, natural gas as CNG has been able to replace high priced hydrocarbon commodity like petrol and diesel, as CNG is an economical fuel.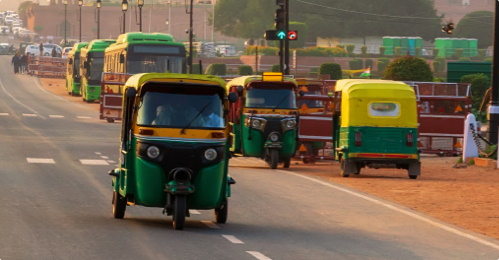 Benefits of CNG
Environmental

No impurities, No Sulphur (S), No lead(Pb)
Very low levels of polluting gaseous emissions without smell and dust

Safe to Use

Lighter than air - in case of leak no dangerous puddles
Unlikely to ignite due to: 1. High ignition temperature 2. Narrow range of ignition
Lowest injury and death rate per vehicle mile
CNG cylinders structurally most sound and have passed every severe tests

Economical

Cheaper than conventional fuel.
Payback period is short (around 3 - 4 Years) for CNG cylinder
 Things you should do!
| | | | |
| --- | --- | --- | --- |
| Always ensure that installing/ servicing the CNG kit is done through authorized workshop | Hydro testing of CNG Cylinder must be done every three years | Get the vehicle thoroughly checked by an authorized workshop every year | Always keep the certificate of CNG kit and Cylinder |
| Keep a portable fire extinguisher and first Aid box in the vehicle | Be alert for any emergency | In case of Emergency contact fire brigade for help | |
 Things you should not do!
| | | | |
| --- | --- | --- | --- |
| In case of Emergency contact fire brigade for help | Do not install LPG, Propane or any other cylinder in place of a CNG Cylinder | Do not use mobile phones near CNG filling area | Do not use any naked flame near CNG Filling area |